Trofimova Elizaveta Sergeevna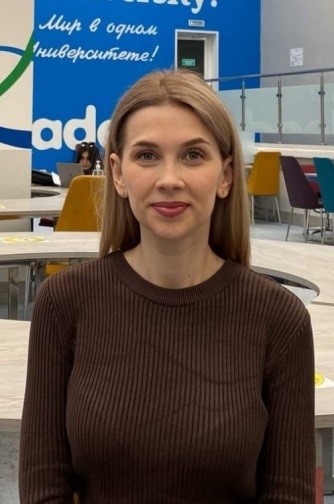 E–mail: trofimova.elizavetta@yandex.ru
Place of work: Peoples' Friendship University of Russia, Moscow, Russia
Status: Lecturer of the Department of Theory and Practice of Foreign Languages of the Institute of Foreign Languages
Place of study: Federal State Budget Educational Institution of Higher Education Β«Kemerovo State UniversityΒ», Kemerovo, Russia
Status: post-graduate student of the Department of Translation Studies and Linguistics of the Institute of Philology, Foreign Languages and Media Communications
Scientific major: military-political discourse, conflictogen, linguoculture, media discourse, media language.
Important publications:
Trofimova E. S. Linguistic features of creolized texts of military-political discourse / E. S. Trofimova, A. A. Teleguz, A. G. Fomin // Bulletin of the Nizhny Novgorod State Linguistic University named after N. A. Dobrolyubov. T. 4 (56). – Novgorod: NGLU, 2021 – P. 87-107. DOI: 10.47388/2072-3490/lunn2021-56-4-87-107.
Smakotina N. A. Gender and professional stereotypes in Russian – and English-language military advertising / N. A. Smakotina, A. A Teleguz, E. S. Trofimova, A. G. Fomin // Bulletin of the Chelyabinsk State University. 2022. β"– 3 (461). Philological sciences. T. 128. P. 145-159. DOI: 10.47475/1994-2796-2022-10319.